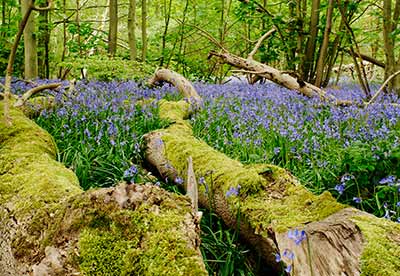 Bluebells & Broken Limbs
No photograph can do justice to a BluebelI Wood in the spring. The drifts of blue under the trees combine with the smell of wet soil and the bird song to give a tremendous sense of well-being and new growth. Here the Bluebells were growing amongst the limbs of storm-smashed trees which, even as they decayed, provided a home for a blanket of moss. I just wish I could have captured the amazing perfume of that evening, when the warm, still air allowed the flowers' scent to dominate.
Metton, Norfolk, 26 April
Print £ 55.00 (37 cm x 25.5 cm); mounted print £ 65.00; framed print £ 140.00.

Block Mounted £ 165.00.

Postage & Packing will be charged at cost. Alternatively, prints and block mounts can be collected from our base in North Norfolk.