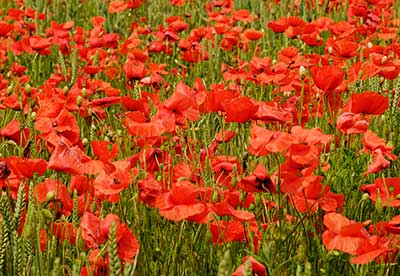 Poppyfields
With the coming of the railway to Cromer in 1877 the name 'Poppyland' was coined for the this corner of rural Norfolk by Daily Telegraph journalist Clement Scott, smitten with the simple beauty of fields, sea and sky. Despite its journalistic origins, 'poppyland' does have a special magic, and it is still possible to find crops of wheat or barley that are bright with the flowers of Common Poppy.
Stalham, Norfolk, 19 June
Print £ 55.00 (37 cm x 25.5 cm); mounted print £ 65.00; framed print £ 140.00.

Block Mounted £ 165.00.

Postage & Packing will be charged at cost. Alternatively, prints and block mounts can be collected from our base in North Norfolk.